It is safe to say that I have more crochet projects that I doubt I will ever finish them all, but it is so much fun to browse patterns. For quite some time, I've been tinkering with the idea of writing crochet patterns. I have written a few but that's about it. But I have…
Pin It
August 20, 2018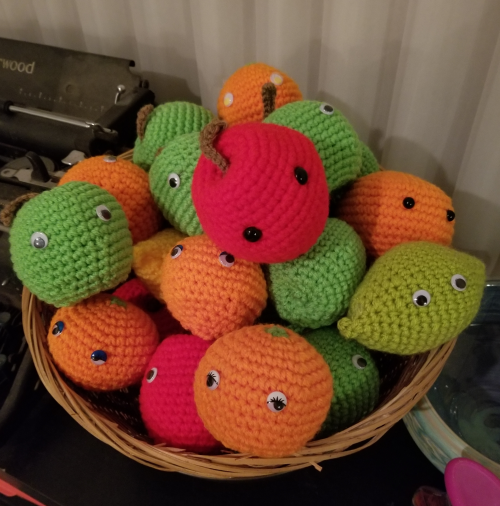 Wow. It's been a while since I have posted and if I'm being honest it's been a while since I crocheted. I did do a lot of crocheted items for Christmas which usually burns me out for a few months. Here are the Halloween goodies I made for the trick or treaters: I love using…
August 5, 2018
Here it is almost the middle of September. Wow. The holidays are nearly here and with that comes a lot of crocheting. I have two main projects each fall. First there is Halloween goodies for the trick or treaters. Second is Christmas hats which has grown from when I first started it. This year I…
September 27, 2017
Crochet Mae is on You Tube! First video is a speed crochet. My daughter watches a lot of speed drawing, so I thought, 'why not speed crochet?' I'm working on my setup and plan to do another one very soon.
July 22, 2017
It's wonderful to crochet for family. My daughter has challenged me several times to crochet her stuff. I love doing this as it not only keeps me on my toes but it is nice to make her something she absolutely loves. There's no better reason to pick up the hook than putting a smile on…
July 19, 2017
Here is a little Zero amigurumi I did a while back. I didn't have a pattern, and it was one of the first times I had used felt with one of my creations. I wanted the 'ghost cape' to be flowing and thought crocheting it would make it too heavy. The felt gave it more…
June 28, 2017
Crocheting Easter eggs is one alternative to both plastic and real eggs. You could even decorate the eggs with buttons, stickers, etc. This is a great little project for leftover yarn. I didn't create a pattern while working this up, but basically start with a base of 6 single crochets in a round either by…
April 14, 2017
If your family is like ours, then you have plenty of plastic eggs lying around the house. After Easter, these plastic eggs take up space and while you can reuse the plastic eggs in useful ways, you can also craft with them. This is my monster egg cozy. Isn't he adorable? He is very easy…
April 10, 2017
I got a wild idea about the middle of November to make everyone crochet beanies for Christmas. I had just had surgery in October and was home recovering thinking I had plenty of time. I compiled my list of hats I needed to make. There were over 50 names on that list and with a…
February 6, 2017
Last year I made two Valentine's card with a crochet theme. I enjoyed it so much that I made some more for this year. If I am doing it correctly, this should print on one page. Next year I plan on doing them as a .pdf for easier download. Enjoy!
February 5, 2017